---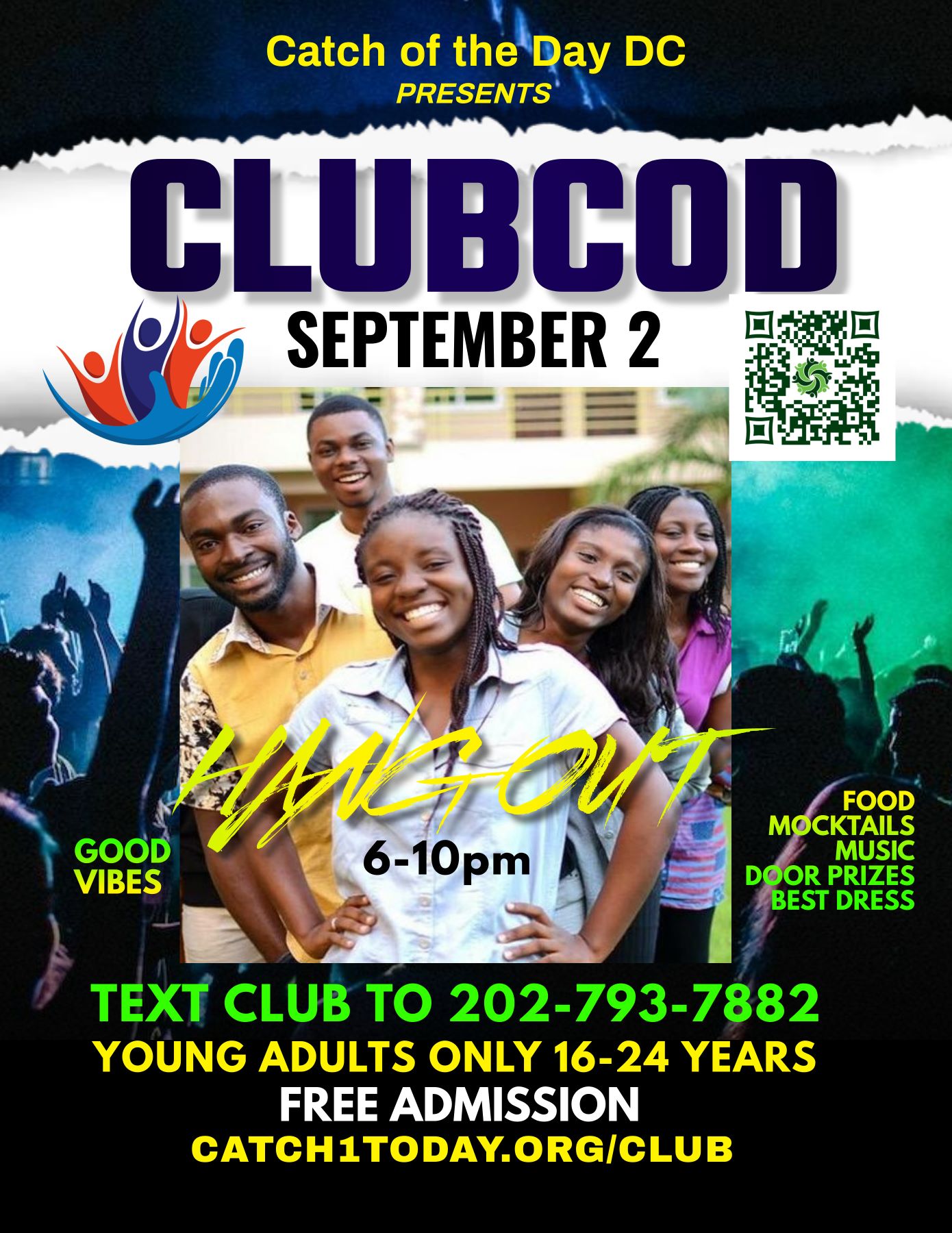 THE SEPTEMBER 2 LAUNCH HAS BEEN POSTPONED. THE NEW LAUNCH DATE WILL BE ANNOUNCED SOON. PLEASE SIGN THE GUEST REGISTRY TO STAY CAUGHT UP
TAP, I WANT TO JOIN CLUB COD
Free membership until September 16
TAP, I WANT TO HELP PLAN CLUB COD
Join the leadership team today!
TEXT TO CATCH UPCOMING EVENTS
Text CLUB to 202-793-7882
CLUB COD is a pioneering initiative by Catch of the Day DC Church to introduce young adults to the Creator, Life Coaches and Hands-on Training to ensure they have the knowledge, wisdom and skills to become successful, happy and maturing adults.
CLUB COD will provide good vibes including diverse sounds, beats and rhythm of music; snapping; moving; dancing; singing; jumping; shouting; laughing; eating; and drinking colorful mocktails while socializing with their peers. There will be age appropriate art and entertainment as well as opportunities for young adults to showcase their gifts and talents.
CLUB COD aims to introduce young adults to professional life coaches who will share knowledge, wisdom and information that will ensure they are equipped and well prepared to navigate life!
Lastly, CLUB COD is a judgement free, supportive, encouraging, inspiring and loving hangout.
SCRIPTURE FOUNDATION: "Remember now, your Creator, in the days of your youth." (Eccles 12:1)
GOOD VIBES
Singles Mingle
Comedy Eccentric
Mocktails
Hors-d'oeuvre
Dance Beats
Leap for Joy
Shout-Outs
Casual Dress Code
Best Dressed Contests
Best Sneakers Contests
Best Accessories Contests
Dress Coordination Contests
All White Parties
All Black Parties
Food for the Soul
Spoken word
Snag a mate
Bring a date
Door prizes
LIFE LESSONS TAUGHT
BY LIFE COACHES
How to plan a household budget
How to fund your dreams
How to establish good credit
How credit works against you
How to understand net worth
How to correct negative credit
How to live debt free
How to manage loans
How to find the ideal date
How to manage mental health
How to choose a career
How to negotiate salary
How to plan nutritional meals
How to resolve conflict
How to manage anger
How to overcome habits
How to overcome addiction
How to respect opposite sex
How to prepare for marriage
How to navigate marriage
How to choose health insurance
How to choose life insurance
How to complete a W4 form
How to purchase your first car
How to purchase your first home
How to start a small business
How to start a non-profit
How to master finances
How to reset you life
How to manage time
How to choose stocks
How to choose a IRA
How to set up a trust fund
How to retire by age 55
TAP, I WANT TO JOIN CLUB COD
Free membership until September 16
TAP, I WANT TO HELP PLAN CLUB COD
Join the leadership team today!
TEXT TO CATCH UPCOMING EVENTS
Text CLUB to 202-793-7882