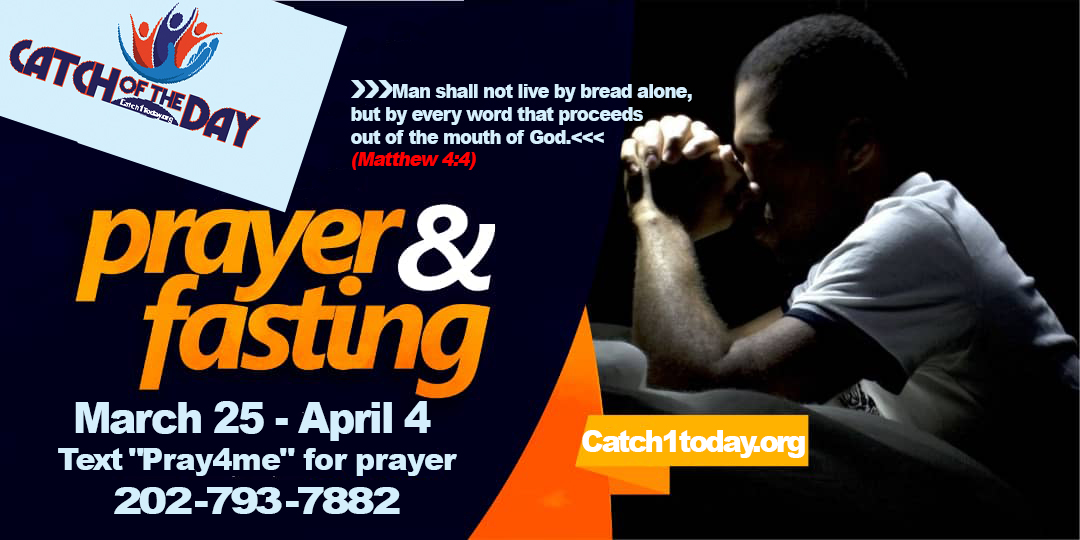 "Man shall not live by bread alone but by every word that proceeds out of the mouth of God." (Matthew 4:4)

"If my people, which are called by my name, shall humble themselves, and pray, and seek my face, and turn from their wicked ways; then will I hear from heaven, and will forgive their sin, and will heal their land." (2 Chronicles 7:14)
The purpose of fasting and praying is to establish a genuine relationship with the Heavenly Father. Prayer is a two way communication with GOD. He hears us. "This is the confidence we have in approaching God: that if we ask anything according to his will, he hears us." (read John 5:14) The Heavenly Father promised to deliver us from evil thoughts, desires and habits. But we must REPENT, which means to turn to God for help. Only when we turn to him is he obligated to deliver us from evil and change our lifestyle.
Only the Heavenly Father can deliver us from evil thinking, evil doing, evil desires and ungodly choices in life! He alone can totally forgive, erase, eradicate and destroy our past, present and future sins." (read Matthew 6:13)
"Brothers and sisters, you can not deliver yourself from sin. Trust in the LORD with all your heart while fasting. Ask him to deliver and separate you from sin. Stop trying to fight spiritual warfare with your mind and will power. Trust God and ask him to save you from your selfishness. You will lose without God's help. You will succumb, yield and choose unrighteousness without God's intervention. You are no match for spiritual warfare, principalities, powers, rulers of the darkness of this world, spiritual wickedness in high places." Our struggle is spiritual and our enemies are invisible. (read Ephesians 6:10-18)
Therefore, we must acknowledge and recognize that on our own, we are no match for our lustful habits, desires and proclivities. We must fast, pray and ask GOD to deliver us from evil thinking, doings and habits. Jesus told his disciples, "These demons, diseases, troubles, temptations, strongholds can only be evicted, destroyed and overcome by prayer and fasting. (read Mark 9:29) This is the reason why we are required and need to fast and pray. Are you ready for deliverance, cleansing, purging and healing? May the Heavenly Father, Lord Jesus Christ and the Holy Spirit be with you during your fasting and prayer.
Text "fast" to 202-793-7882 to join the 10 day fasting and prayer purge.
Text "ipray" to 202-793-7882 to become a piranha prayer partner.
Frequently Asked Questions
Got a Prayer Request?
What is Piranha Prayer?
How to Fast and Pray?
Teach Me How to Pray?
Prayer Sequence
Become a Piranha Partner